Overview
Background
From 31 May 2022, local highway authorities in England outside of London have been able to apply to the Secretary of State for new powers to enforce 'moving traffic offences'. See signage that this applies to
Moving traffic offences include:
Entering yellow box junctions when the exit is not clear

Driving through a 'No Entry' sign

Turning left or right when instructed not to do so

Driving where and when motor vehicles are prohibited

Driving on routes that are for buses and taxis only

Going the wrong way in a one-way street

Ignoring a Traffic Regulation Order (TRO)
Currently enforcement of moving traffic offences can only be carried out by the police under criminal law and a penalty notice issued. However, the Department for Transport (DfT) announced in 2020 that they would be fully implementing the remaining elements of the Traffic Management Act 2004 - Part 6 Civil enforcement of traffic contraventions. This allows local highway authorities, in this case Trafford Council, to undertake enforcement, as the offences have been decriminalised and can be treated as civil contraventions. Local highway authorities will be able to issue Penalty Charge Notices (PCN), more commonly known as fines, to motorists.
Trafford Council will be looking to apply for the new powers to expand the work we already do to improve road safety and tackle congestion. Trafford Council do however, want to hear your views on whether you agree or disagree with Trafford applying for and using the new powers.
How do Trafford Council plan to use the enforcement powers?
At first, we plan to use the powers to enforce illegal entry into yellow boxes at White City Circle (A56 Chester Road / Regent Road roundabout)
and to also use the powers to enforce illegal entry into yellow boxes on the A56 northbound from Junction 7 of the M60 onto the A56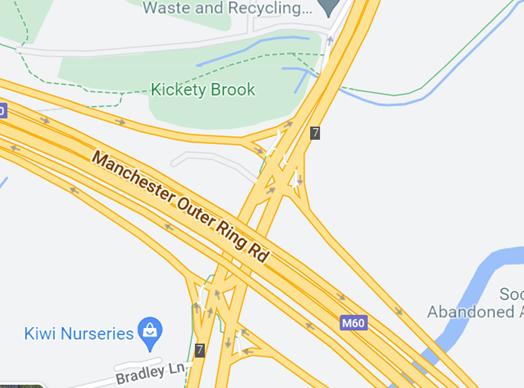 How will future sites be chosen?
We would take a consistent and measured approach to enforcement, using cameras at sites where it has been identified there is an absolute need.
There would be a robust decision-making process in place to ensure that each site is chosen on the merits of how it will improve the area if traffic contraventions are enforced.
Further sites in the future that could be considered would be at other yellow box junctions that have congestion problems, wherever a School Streets Scheme has been implemented or at other locations where enforcement of illegal traffic manoeuvres would benefit congestion and road safety in accordance with the guidance.
Introducing Automatic Number Plate Recognition (ANPR) cameras and issuing PCNs would not be the standard approach for all locations. It would only be installed at locations where it has been proved there is an absolute need.
Each potential site must help achieve at least one of the following objectives (as outlined by the DfT application conditions):
Improve road safety

Encourage active travel choices

Tackle network congestion 

Increase public transport reliability

Improve air quality

Increase lifespan of highway assets
What will happen to the income generated by PCNs?
Unlike funds raised by speed camera fines, which are transferred to central government, any money raised through this enforcement will be kept by local authority, but must be spent on:
Recouping costs of enforcement

Paying for public transport provision

Paying for highway improvement projects

Paying for environmental improvements in the authority's area
Should there be any money left over once the operational costs have been met, this will be used for highway improvement projects in line with strict government guidance.
Making money is not an aim of enforcing moving traffic offences. We're applying for these powers to make a difference to the highway network, and not as a source of financial income.
We hope that better enforcement would help improve compliance at these sites to make the necessary safety, congestion, and public transport improvements. As compliance improves, the number of PCN's would hopefully fall.
When would the new powers start?
The start date is dependent on the legislation and the parliamentary timeline. It is estimated that the enforcement powers will come into effect in 2023. When we're able to take over responsibility of enforcement, we would widely publicise any implementation, and warning notices will be issued for first time offences for a period of six months, following the 'go live' date.
How will offences be enforced?
The government have issued guidelines that regulate how local highway authorities must enforce moving traffic offences.  Automatic Number Plate Recognition (ANPR) cameras must be Vehicle Certification Agency compliant and will be installed at the sites to be enforced and PCNs will be issued via post to the 'Registered Keeper' of the vehicle (in the same way bus lane cameras currently operate across the country).
Will drivers be able to challenge PCNs?
When a PCN is issued, there will be details on how a challenge can be made. As with parking PCNs, this must be in writing and within the timescales set out on the PCN. For the first six months of operation warning notices will be sent for first time offences.
What happens next
Thank you for providing your feedback on the proposals.
If you would also like to comment on our proposal, you can do so by email to TMAPart6@trafford.gov.uk.  Please note that an anonymised summary of the consultation may be published. 
The consultation is open until midnight on 2nd January 2023.
What happens next?
If we're granted the powers by the DfT, we estimate that the powers will come into effect in 2023 and the sites will have signage and cameras installed. However, this is dependent on the legislation and parliamentary timelines.