Overview
The Urmston Active Neighbourhood launch was first held in January 2020. Local people were invited to attend and have their say on developing proposals for the project, to improve Urmston as a place to live, work and visit. This was part Trafford Council initiative awarded Mayor's Cycling and Walking Challenge Funding (MCF) to create Trafford's first active neighbourhood in Flixton, Davyhulme and Urmston.
Approximately 600 people attended this event, which kick-started the consultation and included the launch of the engagement website, which was used to gather feedback from the community on the changes that they wanted in their local wards. Approximately 3,400 comments were received that were analysed by the project team to create proposals for the scheme.
What is an Active Neighbourhood?

An Active Neighbourhood aims to help residents to make short trips on foot, by cycle or by public transport, instead of jumping in their car. Active Neighbourhoods also seek to make our roads a safer place for all users.

Active Neighbourhoods can be achieved through:

New crossings, walking and cycling facilities

Introduction of measures around schools to improve road safety

Measures to prevent 'rat running' in residential streets

More walking and cycling routes connecting communities

Prioritising the movement of people over vehicles

Environmentally friendly community spaces.
Proposals for Active Neighbourhoods in Flixton West and Davyhulme Park
We've listened to your feedback from our initial consultation and are now ready to present phase 1 proposals, focused on two Urmston neighbourhoods, based on solutions to concerns fed back by the community.  As such, we believe that these updated plans are an important opportunity to continue the involvement of the communities of Flixton West and Davyhulme Park with active neighbourhood proposals that aim to:
Create effective havens with cleaner, greener, and healthier streets that are green, safe and well connected and encourage walking, wheeling, and cycling opportunities by restricting motor vehicle access at various locations, by maintaining and improving cycle lanes and footpaths and ensuring safer and easier connections for people to get around locally.

Address high levels of local congestion and pollution.

Cut down on dangerous rat running and illegal parking.

Tie-in and complement both hyper local initiatives such as school streets as well as with the Greater Manchester's Bee Network.

Assess local interest for an initial trial period (minimum 6-month) to temporarily test out or amend the proposals during which, the experiences of all stakeholders and the gathering of data, will inform any decision on how best to proceed with the proposals.
We want to hear your views on these proposals as your feedback will inform the development of these schemes.
Map of Active Neighbourhood Proposal for Flixton West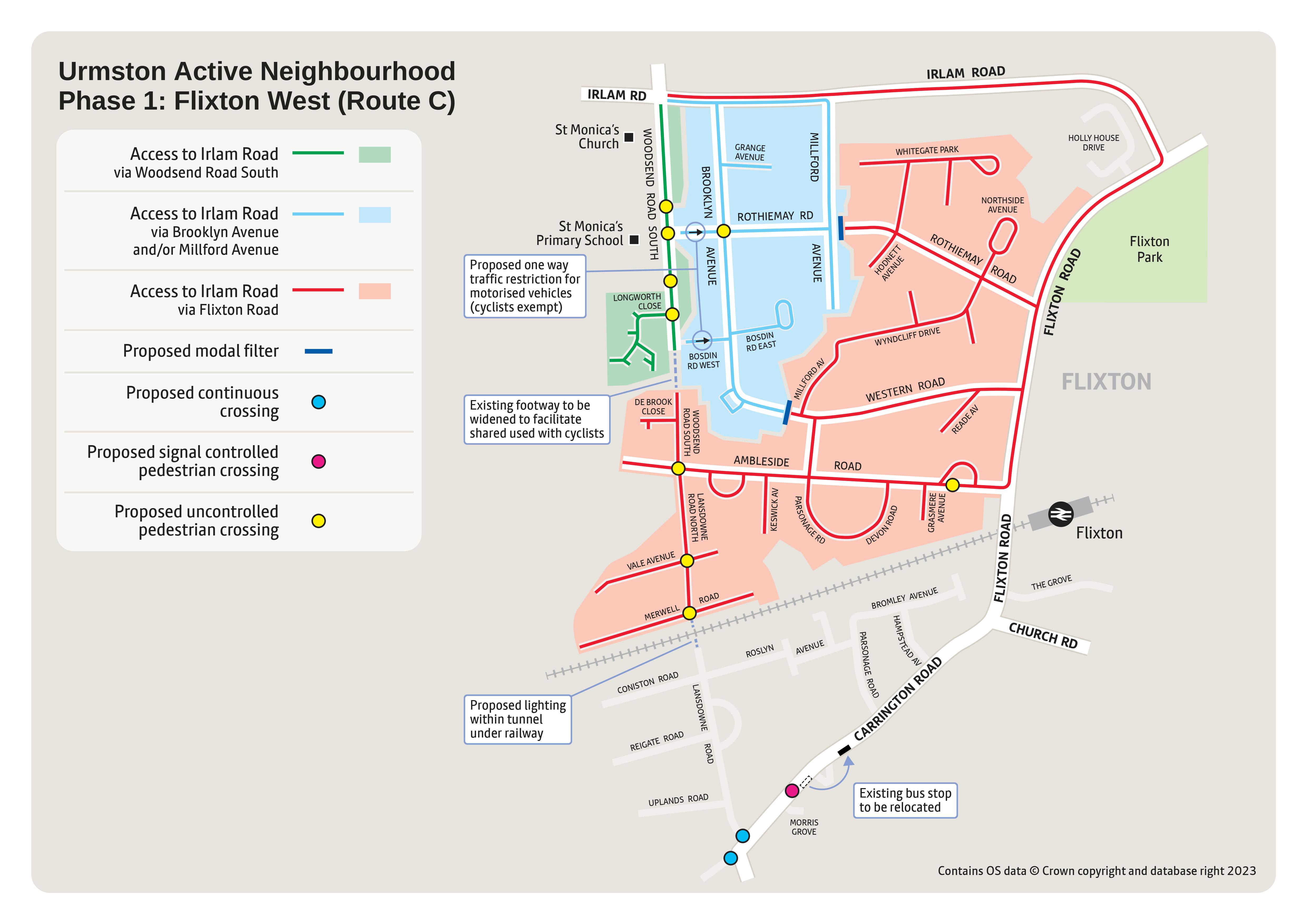 Map of Active Neighbourhood Proposal for Davyhulme Park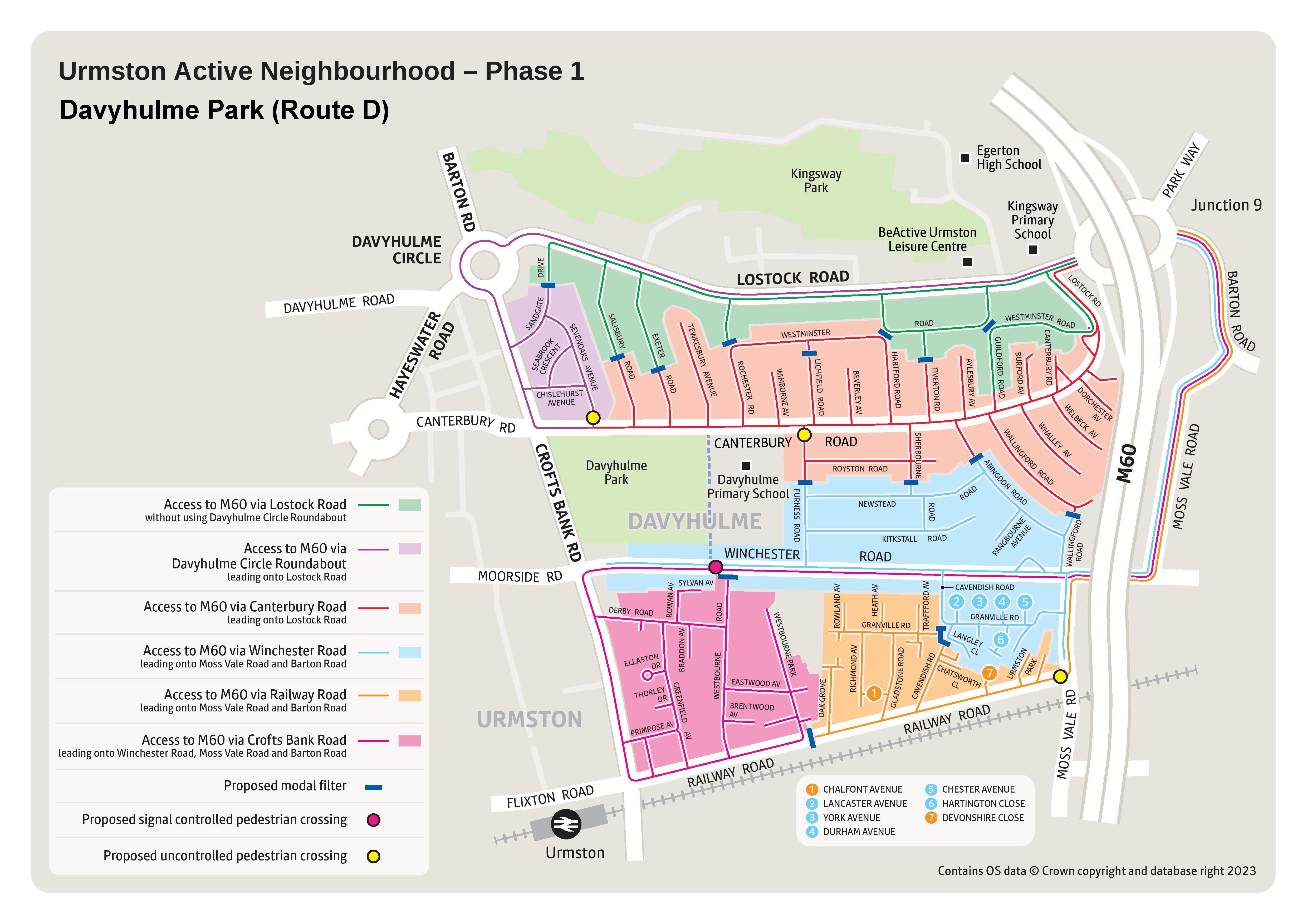 Example of existing Street Point Closure / Modal Filter in Park Road South, Urmston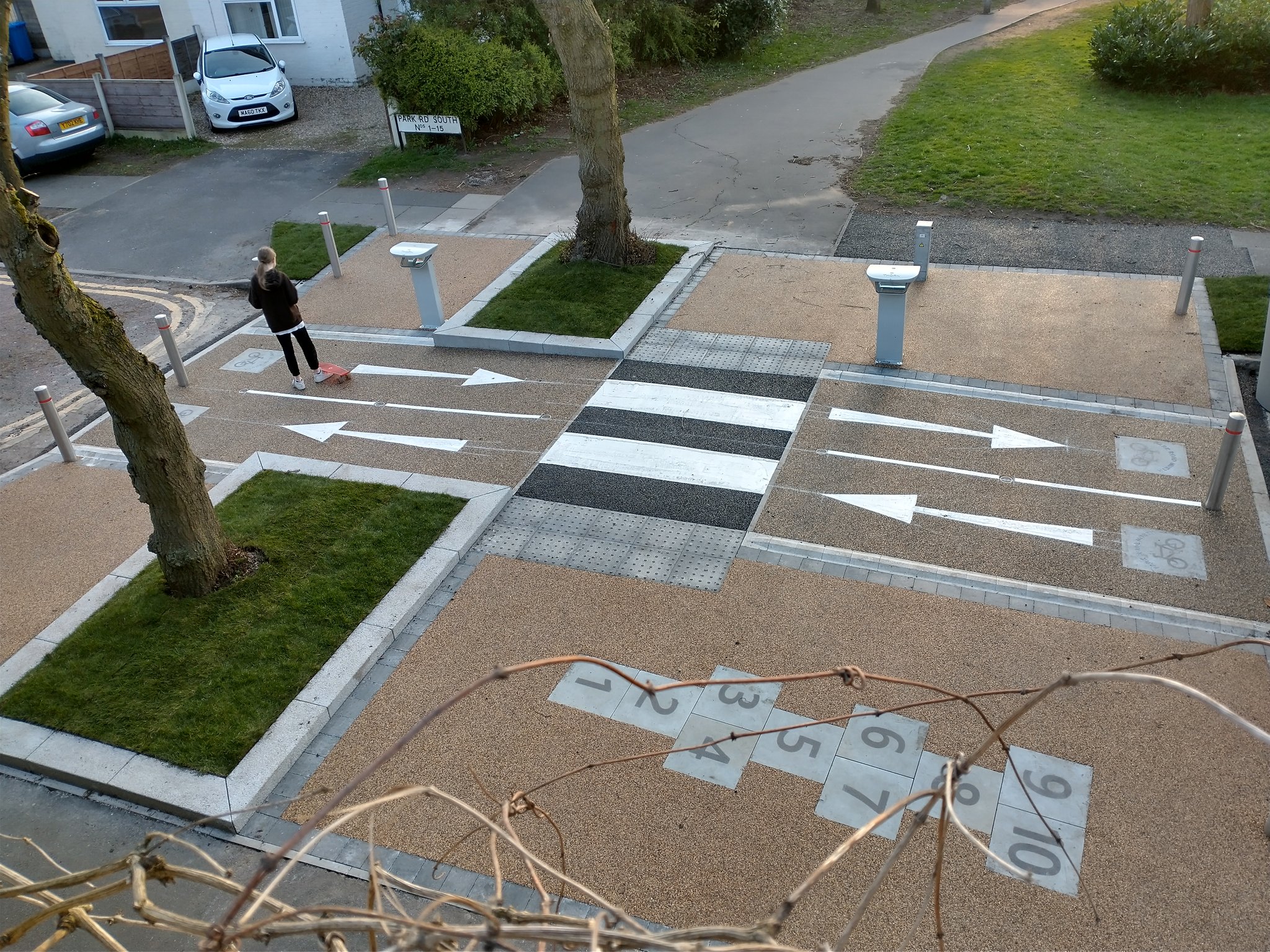 The proposals include several improvements:
'One Way' proposals where cyclists

can still travel in both directions

;

A number of proposed point closures and diagonal closures / filters restricting the passage of vehicular traffic but allowing the free movement of pedestrians and cyclists;

Signal controlled cycling facilities and pedestrian crossings alterations;

Narrower junctions, extra footway space and shorter pedestrian crossings alterations making it easier / safer to get around on for pedestrians (or wheelchair/mobility aids/pushchairs);

More attractive streets through planting/greenery/seating;

Changes to improve parking;

Support the introduction of School Streets.
A detailed list of Active Neighbourhood proposals can be downloaded here.
Why your views matter
We are now asking residents, businesses, and users of the area to have their say on the proposals to help shape the final scheme layout. The consultation on these proposals runs from Monday 2nd October to Sunday 12th November 2023. Your views are very important to us.
You can find more information at our drop-in events. At these drop ins visitors can out more from project team members, offer feedback on the proposals and understand the potential scheme benefits. 
There are two drop in events per area (further address details can be found at the bottom of this page):
Flixton West area  

16th October 4 p.m. - 7:30 p.m., St Monica's School

17th October 9 a.m. - 11 a.m., Flixton House

Davyhulme Park area

18th October 4 p.m. - 7:30 p.m., Davyhulme Primary School

19th October 9 a.m. - 11 a.m., Hartford Community Centre.
Once the consultation is complete, responses will be reviewed and used to help shape the final scheme layout. Findings from the consultation will be published on www.trafford.gov.uk.
If you require the proposals or survey in an alternative format, or have any issues or queries, email us at Urmstonan@amey.co.uk or follow us on Twitter @Onetrafford.
What happens next
Thank you for providing your feedback for the Flixton West or Davyhulme Park Active Neighbourhood schemes.
Once the consultation is closed on the 12th November 2023, all the feedback received will be analysed and considered to help shape the final proposals.
If you would like to keep up to date with the progress of the scheme, updates will be posted on the webpage.